Ford EV Home Charging Guide

From instantaneous acceleration and smooth drive characteristics to unparalleled efficiency – it's difficult to ignore the sizable list of advantages that come from owning an all-electric vehicle. Now with more choices than ever before in the growing family of Ford EVs, there's never been a better opportunity to make the switch to the EV lifestyle.
One of the most common questions of shoppers looking for their first electric vehicle involves where they will charge it. While there is a wide variety of charging options available in public areas, undoubtedly the best place to charge your EV is at home. After all, your vehicle typically spends the night in your driveway while you're asleep. Our team at Mike Bass Ford wants to introduce you to all the benefits of home charging along with all of the available options you'll have at your disposal once you're a Ford EV owner.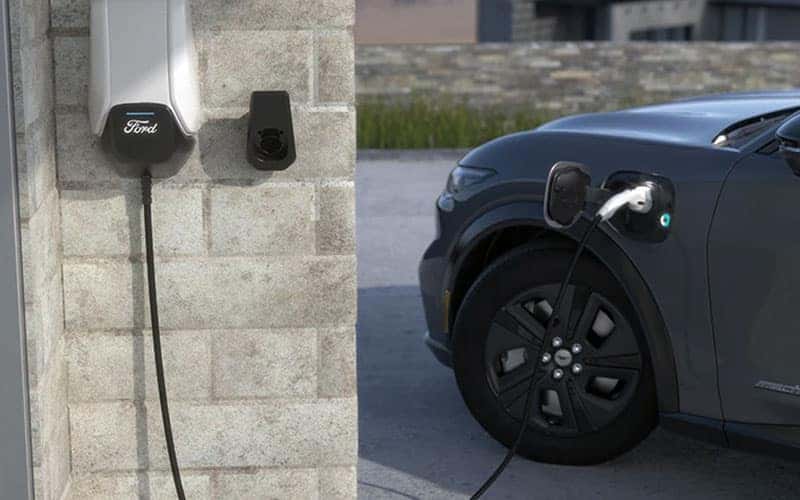 Ford Connected Charge Station
Perhaps the most effective way to keep your Ford EV charged up and ready for your next adventure is the Ford Connected Charge Station. Available with the purchase of your Ford EV, this sophisticated charging solution is a 240V/48A hardwired charge station that can add an average estimated range of 28 miles per charging hour on a Mustang Mach-E with an extended-range battery and rear-wheel drive.* F-150 Lightning models also benefit from 15% to 100% extended-range battery charges in just 8 hours using the Ford Charge Station Pro.
Better still, the FordPass™ App and FordPass Connect™ give you the ability to remotely lock and unlock your charge station, share access with friends and family, get data on charge history, and monitor your energy usage all from your smartphone**. The Ford Connected Charge Station can be ordered from your Ford dealer or from FordParts.com. Professional installation from a licensed electrician is required.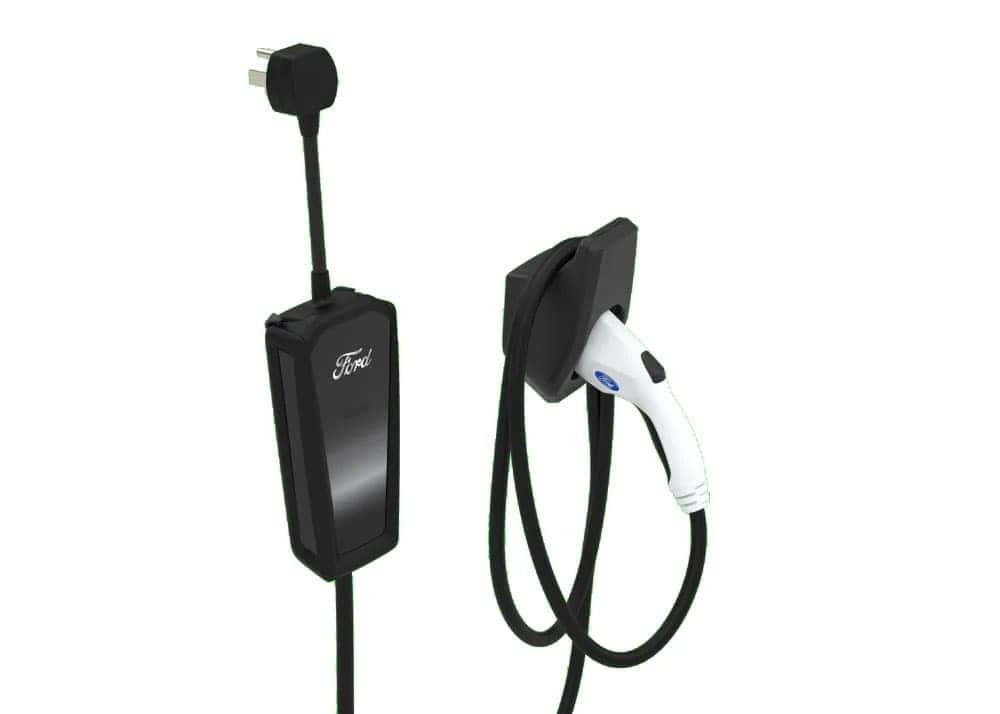 Ford Mobile Charger with 240V Outlet
Using a 240V NEMA 14-50 wall outlet, the Ford Mobile Charger can add an average of 20 miles per charging hour on a Mustang Mach-E with an extended-range battery and RWD*. While 240V electrical service is often found in many homes, a professional can install this type of wall outlet if necessary so you can enjoy the benefits of overnight charging for your Ford EV. As its namesake implies, the Ford Mobile Charger benefits from its portability, allowing you to travel with the charger no matter where you're headed. If your destination has a professionally-installed 240V outlet – you can experience the same charging speeds and convenience that you would at home!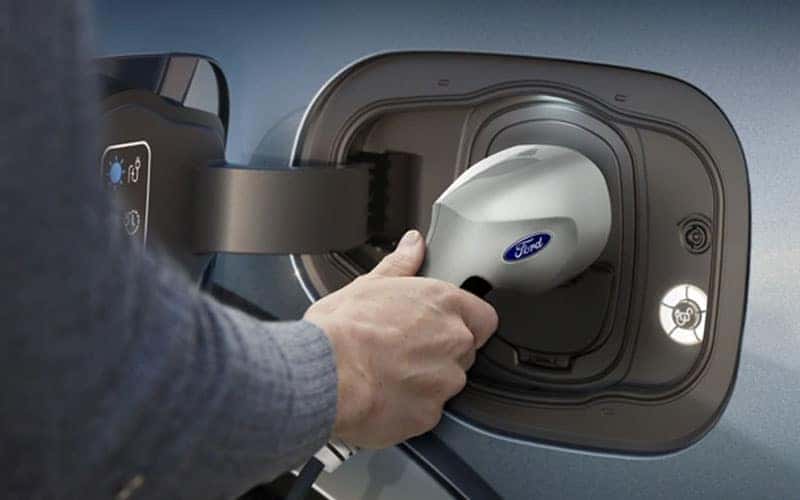 Ford Mobile Charger with 120V Outlet
Perhaps the most convenient solution for charging your Ford EV is using the Ford Mobile Charger with a standard household 120V outlet. Found virtually anywhere, this type of charging allows you to add an average of 3 miles per charging hour on a Mustang Mach-E with an extended-range battery and RWD*. While convenient, this method of charging is best suited for topping off your battery overnight when a full charge isn't needed or in emergency situations. It's an excellent backup solution available in portable form.
Here's a helpful tip for you. When using the Ford Mobile Charger, ensure that the connector is flush and you hear an audible "click" when fully inserted. Without a proper connection, you'll notice that your vehicle won't charge and a yellow indicator light may appear to alert you.
*When equipped with an extended-range battery and rear-wheel drive. Range and charge time based on manufacturer computer engineering simulations and EPA-estimated range calculation methodology. The charging rate decreases as battery reaches full capacity. Your results may vary based on peak charging times and battery state of charge. Actual vehicle range varies with conditions such as external elements, driving behaviors, vehicle maintenance, lithium-ion battery age and state of health.
**FordPass Connect (optional on select vehicles), the Ford Pass App., and complimentary Connected Service are required for remote features (see FordPass Terms for details). Connected service and features depend on compatible AT&T network availability. Evolving technology/cellular networks/vehicle capability may limit functionality and prevent operation of connected features. Connected service excludes Wi-Fi hotspot.
FordPass App Charging Features
Right from the palm of your hand, the FordPass™ App and FordPass Connect™ deliver unparalleled access and convenience for Ford EV owners. Below, you'll find some of the most impressive features and benefits that come from using these groundbreaking connectivity services.
Check charge level and monitor charge progress
Plan your next Electric Vehicle with Trip Planner
Lock/unlock, stop/start, create start schedule from virtually anywhere with complimentary remote vehicle controls when equipped with FordPass™ Connect
Get Vehicle Health Alerts when your Ford needs attention
Share charging station access with friends and family