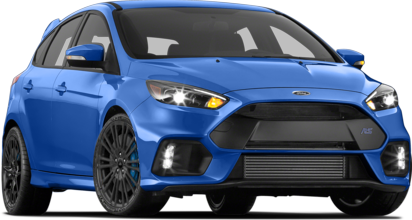 2018 Ford Focus RS
As the largest-volume Ford dealership in NE Ohio, we would be greatly remiss not to include the exceptional and demanded 2018 Ford Focus RS in our offerings. This model year marks its second on American shores after being sold exclusively overseas, and the engineers at Ford Performance have dug deep into their tool boxes to deliver one of the most exciting hot hatches in the segment.
2018 Focus RS - A Performance Benchmark With Rallying Details
History
You might know the Focus as a well-rounded and fun-to-drive sedan or hatch, but for the uninitiated, the RS variant is truly something special. Based on the impressive World Rally Car of the same name that made waves at its 1999 Monte Carlo rally debut, the 2018 model has generated the same with 350 horsepower, all-wheel drive, and votes of confidence from renowned drift enthusiasts such as Ken Block (who served as a development consultant).
The 2018 Focus RS is one of thirty RS-badged models produced by Ford since 1968. After its Monte Carlo debut, the first generation production model debuted in 2002-blending rally-car inspired performance with day-to-day practicality and an accessible starting price. Redesigned for its second generation in 2009, and the current model debuting in 2016, each successor has taken that synergy to new heights. But the third generation model that the 2018 Focus RS represents gains more than altitude. It sets a new standard for the hot-hatch segment, while simultaneously beating the previous generations' 0-60 sprint by a full second.