Quick Lane in Sheffield Village, Ohio

Designed to simplify the way you get the service that your vehicle needs, the Quick Lane® Tire & Auto Center at Mike Bass Ford is a convenient, no-hassle service solution. With no appointment necessary, even on evenings and weekends, Quick Lane® is home to factory-trained technicians who will work on your vehicle while you wait. We're proud to serve drivers from Sheffield Lake, Avon Lake, Avon, Lorain, Elyria, Amherst, and North Ridgevill. Better still, we service all makes and models. Our team uses high-quality parts from trusted brands and carries an extensive selection of OEM-recommended tires from the top brands in the industry. The next time you're in a rush and your vehicle needs service, visit the Quick Lane® Tire & Auto Center at Mike Bass Ford and experience the difference!
Quick Lane Service Hours & Contact
Mike Bass Ford
5050 Detroit Rd., Sheffield Village, OH 44035
Phone Numbers:
Hours:
Mon – Fri

7:00 AM – 6:00 PM

Sat

7:00 AM – 3:00 PM

Sun

Closed
Quick Lane® Tire & Auto Center – Available Services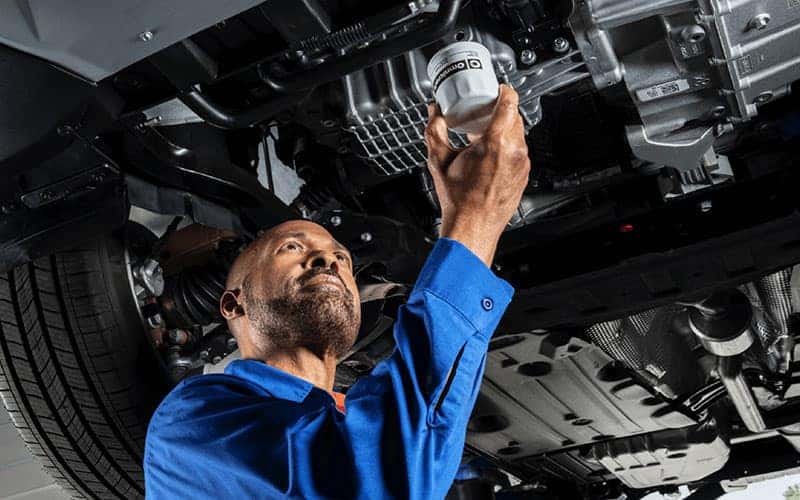 Oil Change Service
Essential for keeping your engine protected from harmful wear and tear, having your oil and filter changed at Quick Lane® is a great way to safeguard your engine and extend the life of your vehicle. Our team offers a selection of the highest quality motor oils specifically formulated for your vehicle along with products from Motorcraft®. You can choose from one of three options for your next oil change.
Oil & Filter Change
Our facility uses premium-quality Motorcraft® Synthetic Blend Oil that's been formulated to maximize performance and protection for your vehicle
The Works Fuel Saver Package
Choosing The Works means that you'll get an oil change and more! This option includes a tire rotation, brake inspection, battery test, and a Vehicle Check-Up Report that lists key maintenance components for your vehicle.
Vehicle-Specific Scheduled Maintenance
Is it time for scheduled maintenance services like spark plug replacement, an engine coolant flush, or something else? Our team can take care of whatever your vehicle needs in addition to an oil change on your next visit.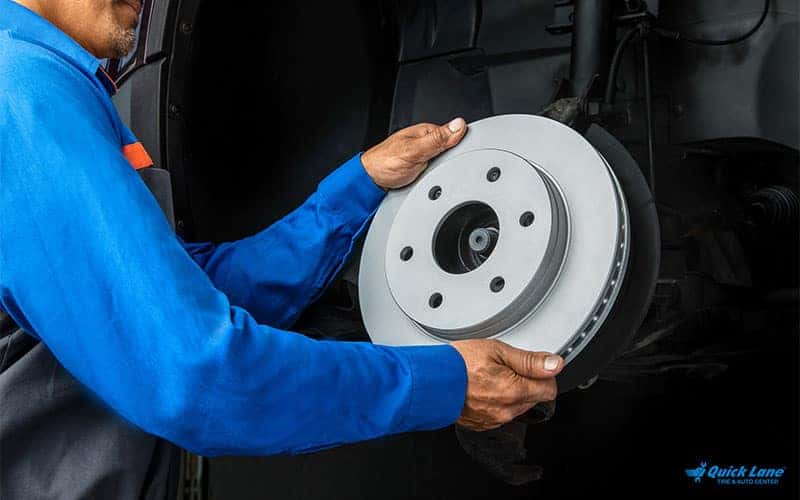 Brake Service
The most important safety component found on your vehicle is the brake system. Responsible for bringing your vehicle to a stop, it's essential that your brakes are in good working order in order to keep you ready for the unexpected. Whether you're currently experiencing issues with your brakes or if you simply would like an expert to inspect them for wear and tear, our team at the Quick Lane® Tire & Auto Center is standing by to help. We use high-quality brake components and fluids when performing brake service. Ensure that your brake system is working at its best today!
Battery Service
Responsible for providing power for your vehicle's electrical system and important features like headlights, the radio, and your climate control system – your battery is an important part of your vehicle. Over time, your battery can wear out simply due to age, use, and other factors like temperature changes. Before a dead battery leaves you stranded on the side of the road, let our team of Quick Lane® service experts test your battery. If a replacement is necessary, we carry an extensive selection of OEM batteries designed specifically for your vehicle.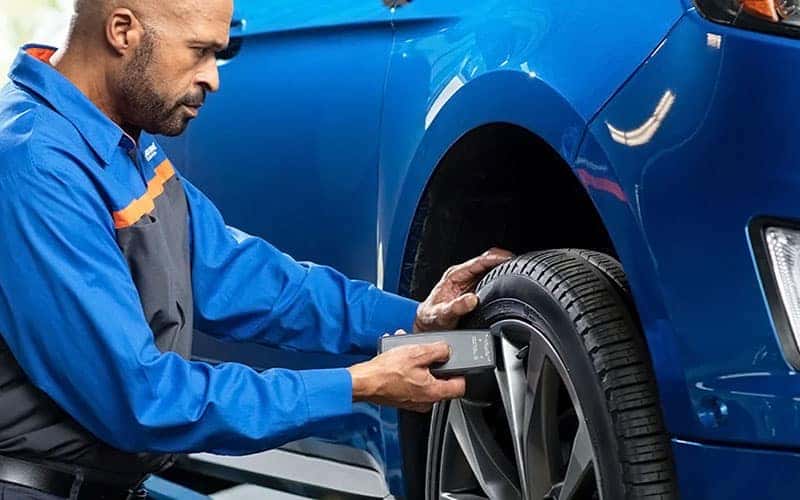 Tire Care & Replacement
As the only component that separates you and your vehicle from the road surface, your tires are responsible for your safety, how your vehicle handles, and even your fuel economy. If you're in need of new tires or simply need a tire rotation or a tire repair – Quick Lane® can handle it all. Our technicians have access to the latest tire repair tools and installation equipment necessary to mount and balance your new set of tires. You'll be able to browse 16 name-brand tires, all backed by the confidence of our Low Price Tire Guarantee**. These brands include:
Goodyear
Dunlop
Kelly tires
Michelin®
BFGoodrich®
Uniroyal
Hankook
Continental
General Tire
Pirelli®
Bridgestone
Firestone
Yokohama®
Toyo®
Nitto®
Falken